Thank you for your interest in the Early Childhood Education Caucus. The bi-partisan, bi-cameral Early Childhood Education Caucus has set a goal to protect and preserve state support for quality programs which promote health and educational development for our at-risk children. Early childhood education is a worthy investment which will continue to pay huge dividends to Pennsylvania communities and our state's overall economic well being.
The Early Childhood Education Caucus was created in March of 2010. We continually work to reaffirm our commitment to provide the resources that give many Pennsylvania children an extra boost that helps them succeed in school and later in life.
If you are interested in Early Childhood Education initiatives, we encourage you to get involved and follow what the Caucus is doing.
Sincerely,
Senator Pat Browne & Representative Mark Longietti
Click here to see a list of current members.
News from the Caucus
Early Childhood Education Action Day at the Capitol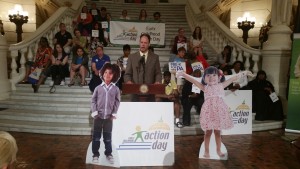 Early Childhood Education (ECE) Action Day brought hundreds of early learning professionals, parents, advocates and supporters of early education programs to the state Capitol in Harrisburg to deliver the message that funding for high-quality early childhood education programs is a top priority.
Early Childhood Education Action Day, which was held on Tuesday, May 12, 2015, included a Rally in the Main Rotunda as well as a day-long presence in the East Rotunda where legislators could stop by and get detailed information about early childhood programs in their districts.
Those attending Early Childhood Education Action Day also had the opportunity to visit their state legislators.
Press Releases